Description
An industry-leading system information tool for IT technicians, which not only provides extremely detailed information about both hardware and installed software, but also helps users diagnose issues and offers benchmarks to measure the performance of the computer.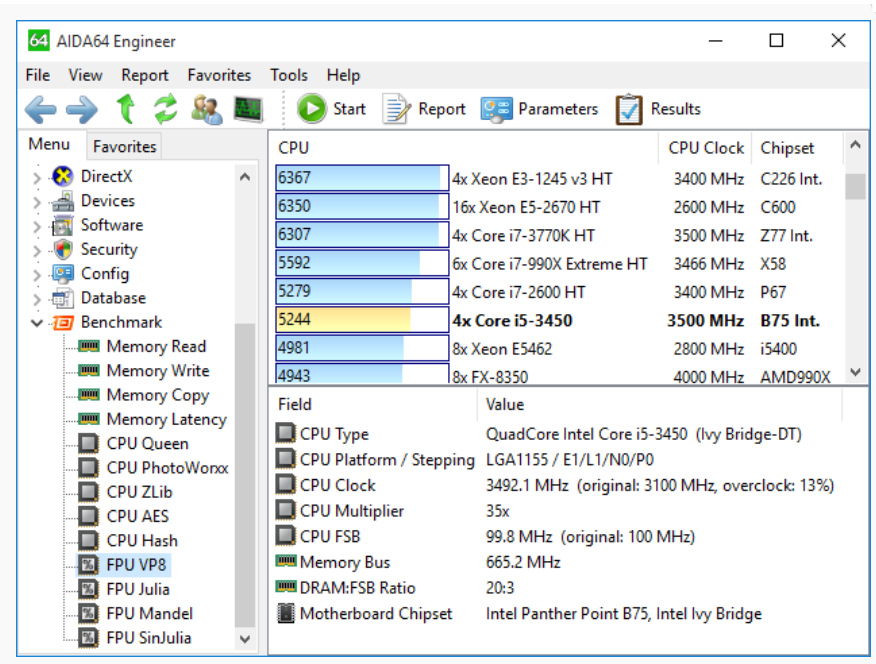 Overview
AIDA64 Engineer has a hardware detection engine unrivaled in its class. It provides detailed information about installed software and offers diagnostic functions and support for overclocking. As it is monitoring sensors in real time, it can gather accurate voltage, temperature and fan speed readings, while its diagnostic functions help detect and prevent hardware issues. It also offers a couple of benchmarks for measuring the performance of individual hardware components or the whole system. It is compatible with all 32-bit and 64-bit Windows editions, including Windows 10 and Windows Server 2016.
System requirements:
• Operating system: Microsoft Windows 95 or later
• Processor: Intel Pentium or better
• Memory: 32 MB (128 MB for running benchmarks)
• Hard disk space: 40 MB
Hardware detection
AIDA64 has the most accurate hardware detection capabilities in its class. The leading hardware detection engine is based on an exhaustive hardware database containing over  170,000 entries, which ensures that the software provides very detailed and reliable information about the PCs components.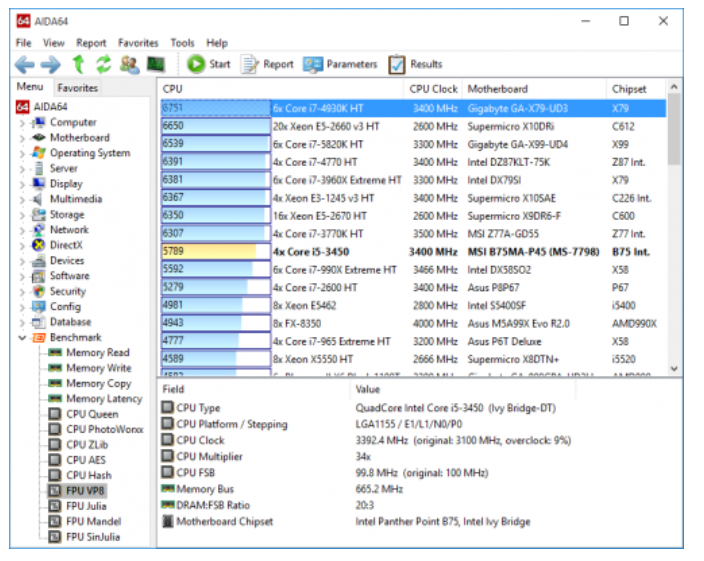 AIDA64 includes a set of 64-bit benchmarks which measure how fast the computer performs various data processing tasks and mathematical calculations. Memory and cache benchmarks are available to analyze RAM and cache bandwidth and latency. Processor benchmarks utilize MMX, SSE, XOP, FMA, AVX and AVX2 instructions, and scale up to 640 processor threads. AIDA64 Disk Benchmark determines the data transfer speed of hard disk drives, solid-state drives, optical drives and flash memory based devices.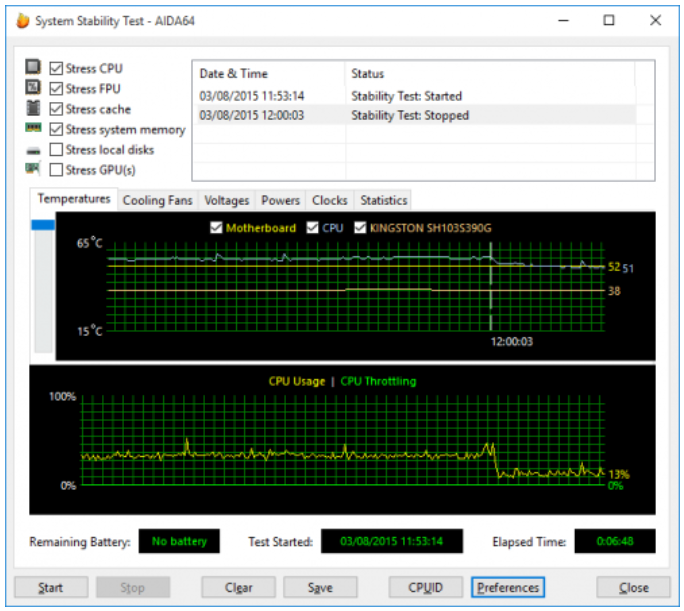 Hardware diagnostics and stress testing
AIDA64 provides detailed information about the CPU as well as the health of CRT and LCD displays. Its system stability test can be used to drive the computer to its absolute limits. During the test, which will help you detect any potential stability and reliability issues, temperatures, voltages and fan speeds can be monitored in real time.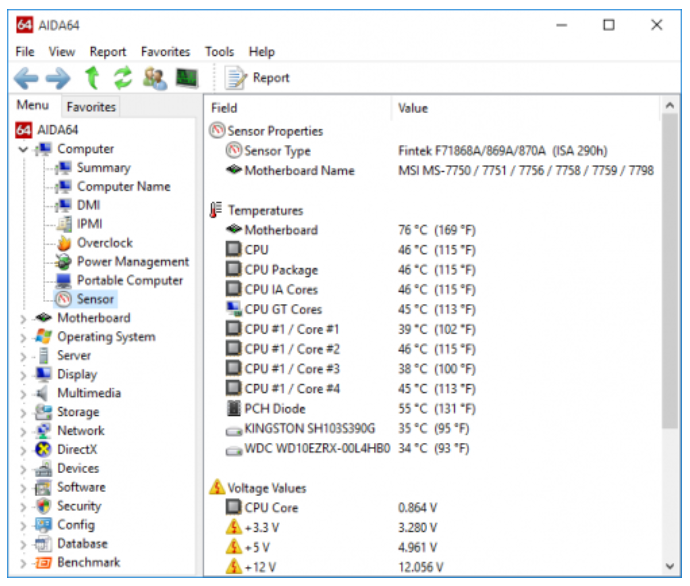 Sensor monitoring
AIDA64 supports over 250 different sensor devices to measure temperatures, voltages, fan speeds and power draw.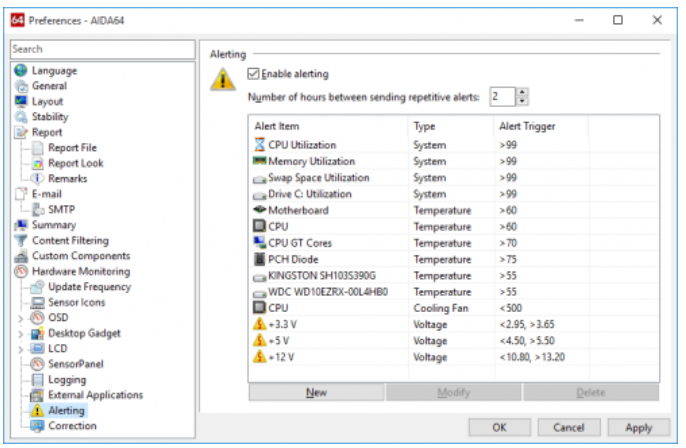 On-screen monitoring, alert
Measured sensor values can be displayed on an OSD panel, a Sidebar Gadget, System Tray icons, the SensorPanel and on the LCD of Logitech and Razer gaming keyboards. The values can also be logged into a file or exported to external applications such as RivaTuner or Samurai. AIDA64 can also send an alert to the user when it detects overheating, over-voltage or a cooling fan failure.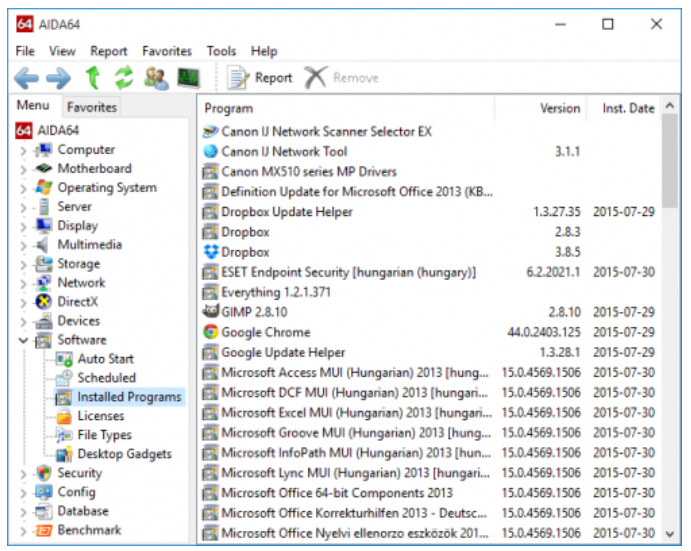 Software information
AIDA64 can provide over 50 pages of information on installed programs, software licenses, security applications and Windows settings. Lists of running processes, services, DLL files, startup programs and web pages visited are also available.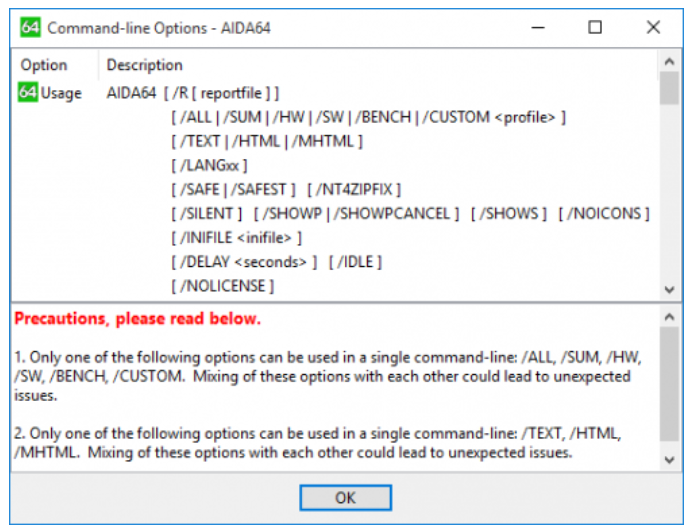 Automated reports
As it supports command-line options, AIDA64 offers great flexibility for automatic report creation. The software supports several open report formats.
Compare AIDA64 editions
 

AIDA64




Extreme

AIDA64




Engineer

AIDA64




Network Audit

AIDA64




Business

Commercial use
Diagnostics
Hardware analysis
Software & Windows details
Overclock information
System Stability Test
Monitor Diagnostics
CPU, memory, disk benchmarks
Hardware monitoring
Sensor monitoring
Sensor logging and alerting
OSD Panel & Desktop Gadget
External LCD and VFD support
Smartphone and tablet integration
Uptime & downtime statistics
Network audit
Command-line automation
CSV & XML reporting
SQL database output
Software audit with File Scanner
Remote features
Graphical remote control
Remote user monitoring
Remote disk health monitoring
Remote virus database monitoring
Automatic remote reporting
Corporate features
Network alerts
Audit Manager
Change tracking
Engineer features
ACPI Browser, DRAM Timings
Logical processors support
128
640
640
640