Description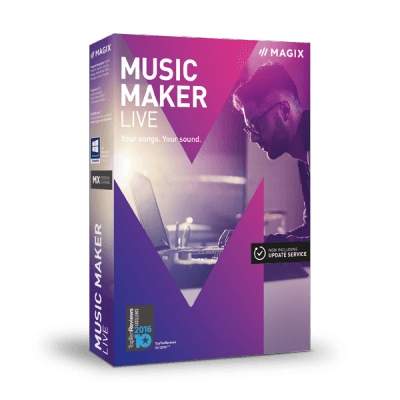 MAGIX Music Maker Live
Your songs. Your sound. With Music Maker Live you can produce and perform your own music the easy way. Modify the beat in real time, start the bass drop or change the melody – all with just a click! New! Customize your version of Music Maker Live with Soundpools, effects packages or brand new software instruments. Add them easily and directly within the program via the Store.
 
Perfect for EDM, Hip Hop, Dubstep and Trap!
1. Produce beats Combine massive bass sounds with beautiful pre-produced melodies and thrilling snares.
2. Record music
Thanks to an unlimited number of tracks, you have enough space for your recordings of jam sessions from Live Pad mode, vocals and the included virtual instruments.
3. Mixing & mastering
With the virtual mixer, various sound effects and tools for mastering, you can bring professional sound to your speakers.
 
New in November: A whole world of creative sounds
Define your own style and expand your version of Music Maker Live with new presets, instruments and loop packages. Preview and select sounds and then add them directly within the program via the new Store.
For your twerk-life balance: Just Make Music: Live Pad mode
This mode offers an especially easy, intuitive way of making music. Select one of the 30 Live Sets from Hip Hop, Trap, EDM or Dubstep genres and begin changing the Live Set on the fly within your session. Start the drums, bring in a hookline or change the melody with one click. Thanks to the loop technology, you can do all this without losing a beat, and hear the results right away.
 
Drag & drop the beat Produce colorful EDM songs, moody dubstep hymns or hard hip-hop easily via drag & drop. Get creative with 6,000 sounds & loops for Dubstep, Trap, Latin, Hip Hop, Techno, Rock Pop, Jazz, Deep House.
Operation also via app Control all of the features in Music Maker with the free MAGIX Audio Remote app (iOS, Android). Play the Live Pad mode, start recording via app, or control the instrument sound.
All features in Music Maker Live
 Create your own songs
 Live Pads – perfect for electronic music
Create songs on the fly: Live Pad mode is the perfect starting point for producing a new track. Loops are automatically assigned to the pads, which can be operated live using the keyboard and recorded. Start performing live right away!
New Media Pool
For even more efficient work flows, you will now find your loops and sounds on the right side of the user interface in the new Mediapool. From there, you can drag & drop loops into your arrangement and build up your song.
Sound for your own songs Over 6,000 new loops & sounds from Hip Hop, EDM, Trap, Dubstep and many more.
Drag & drop the beat
Just drag & drop to arrange your own music in the interface. Freely combine all samples with each other. They adjust to your own melodies and fit the tempo.
Pitch bar
Modify the pitch of the arrangement while maintaining a consistent sound. The software automatically adjusts all underlying objects and sounds when making pitch modifications.
Screen Keyboard
Play melodies, chords and quick sound sequences with the new screen keyboard. It's touch optimized and enables a realistic playing experience. The MIDI chord and arpeggio functions make composing even more fun and engaging. Using the scale functions, you can also play melodies just with one hand.
Scale feature
The screen keyboard can be accessed with just a click and is great for improvising live. The screen keyboard differs from a classic piano design in that it only plays notes that fit the song you are working on. You can also use it to play arpeggios and quick sound sequences.
For more diversity
Pitch presets can be easily applied to the loops you've chosen. Just select a template and the song will take on an individual structure with intro, verse, chorus, and harmony.
Music Maker apps
MAGIX Audio Remote This free app expands the range of features available in the PC version of Music Maker and is designed for controlling the Live Pads and the virtual instruments in the program. Use your smartphone or tablet as an external controller that you can integrate as a key component into your studio setup over Wi-Fi.
Music Maker JAM
Make music on the go, add your own recordings and be part of a global music making community. Download the free Music Maker JAM app for iOS, Android or Windows 8 now. Projects started in the app can be imported into the desktop version for additional editing.
Recording function
Recording solo tracks
Record guitars, basses or keyboards live and record your own vocals. MAGIX Music Maker Live's powerful recording function makes everything intuitive.
Hit the right note: Vocal Tune 2 Vocal
Tune 2 displays all recordings as wave forms, allowing you to edit them in detail and make pitch corrections – all without noticeably affecting sound authenticity.
Music editing
To Infinity
Unlimited tracks – endless possibilities. There's plenty of space to edit, record and arrange. Even much more complex music productions become a reality with this incredible software.
More customization: MIDI editor
Create and edit melodies, rhythms & chords with the mouse. You can vary compositions created in this fashion by changing pitch and using virtual instruments.
More possibilities: VST3 support VST3 and VST2 support enables other virtual instruments, plug-ins and high-quality effects to be integrated quickly & easily.
Audio editing In the past, audio tapes had to be painstakingly cut and taped together by hand. Today, MAGIX Music Maker offers high-performance tools for editing audio & MIDI files.
Audio converter Import, export and convert your songs in various formats such as MP3, WAV, OGG Vorbis, FLAC, WMA, AIFF or MIDI. Of course you can also easily import and convert audio files.
Burning music With a CD/DVD burner and MAGIX Music Maker you can combine several songs into a single project and burn it to disc. Perfect for your first demo, EP or a whole album.
Virtual instruments
Pop Drums
This drum set gives you more than just one instrument. The user interface changes according to the settings you make. Increase the distortion and the drums will look just as crazy as they sound. Concert Grand
You will also find one of the most legendary concert pianos in Music Maker. The popular piano has been carefully sampled and compiled for you in a virtual instrument.
Lead Synth The perfect instrument for screeching leads and melodic accompaniment for your tracks. With MAGIX Lead Synth you can play chill beats, driving club hits and deep trap.
Revolta 2 Synthesizer
This outstanding synthesizer contains a range of filters, oscillators and effect settings that will propel you right into the charts. With the integrated step sequencer, creating new songs and rhythms is easy, innovative and lots of fun.
Impressive: Vita 2 Sample Player This player for the high-quality sound library contains a wide range of professional samples, tons of integrated filters and distortion effects. Perfect for improvising. This is what makes music production fun.
DN-e1 Synthesizer Electrify your ear drums. The virtual synthesizer emulates the best circuitry. With driving electro sounds, vibrating basses and flashing surfaces, the DN-e1 is club ready. Authentic jazz drum sound Out of the dusty jazz cellar and direct to your PC. Drum sticks, brushes, tom toms, ride cymbals and hi-hats easily provide your rhythm section with a groovy jazz sound. Drum Engine The drum engine provides your productions with the right kick. Designed from the start based on famous hardware drum machines and samplers, the drum engine can emulate the entire spectrum from modern drum kits all the way to vintage drum sounds.
 A fountain of fun: Vita Sampler
Load your own audio files (e.g. from popular songs) and start playing right away. The Vita Sampler chops up the file and assigns sections to the virtual pads. You can also select individual areas, change their duration or reverse them.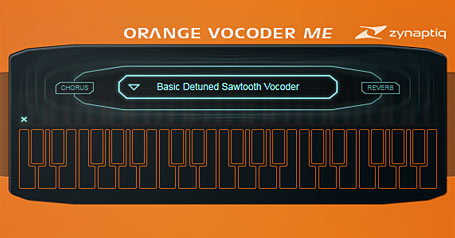 Orange Vocoder ME by Zynaptiq
 Make something new: the Orange vocoder is a new effect in Music Maker which creates electrified sounds. Modulate individual tracks and give each instrument an individual sound using various presets.
Effects
Studio effects
Studio effects are seamlessly integrated into the interface to fit into your work flow. This way, the most important effects for mixing are always in view.
zplane Time Stretching
The zplane time stretching and pitch shifting algorithm in Music Maker Live is one of the best algorithms in the world for adjusting pitch and speed in audio recording.
Vintage Effects Suite
Both classic and modern – the Vintage Effects Suite provides your speakers with a proper retro sound. A range of settings options allow for experimentation.
essentialFX
Genuine sound design meets studio effects such as chorus, flanger and phaser. And the Vocal Strip plug-in gives vocals and spoken recordings warmth and presence.
Mastering Mastering Suite
The Mastering Suite is neatly integrated into the program interface and enables you to make any final sound enhancements. Professional tools such as the parametric 6-band equalizer, the StereoFX module, the limiter and a multiband compressor provide your productions with the necessary vibe.
Auto Mastering Automatic mastering simplifies one of the most demanding tasks in music production with presets for various music genres. It also includes optimized sound analysis and the practical preview
function to help save you time.
Publish online
Directly online
You can also easily share your songs with friends on Facebook, YouTube or Soundcloud thanks to the integrated upload feature! Select song & platform, log in and in the blink of an eye you can celebrate your song's worldwide release.
Produce music videos
Directly import music videos into the software, load images or simply activate the camera on your PC, record a video and add your own songs.
The Music Maker community
Follow MAGIX Music Maker on Facebook, our SoundCloud and Instagram to stay up to date with information about new features, Soundpools and reports from the studio.
| | | | |
| --- | --- | --- | --- |
|   | MAGIX Music Maker | MAGIX Music Maker Live | Version 5 |
| | | | |
| --- | --- | --- | --- |
| Live Pad mode | | | |
| Live Sets | | 30 | 30 |
| Sounds & loops | 30 | 6,000 | 8,000 |
Soundpools
| | | | |
| --- | --- | --- | --- |
| Dubstep | | | |
| Trap | | | |
| Deep House | | | |
| Techno | | | |
| Chillout | | | |
| Score | | | |
| Hip Hop | | | |
| Rock Pop | | | |
| Jazz | | | |
| Brasil 66 | | | |
Virtuelle Instrumente
| | | | |
| --- | --- | --- | --- |
| Insgesamt enthalten: | 6 | 9 | 12 |
| Concert Grand | | | |
| Pop Drums | | | |
| Drum Engine | | | |
| Vita Sampler | | | |
| Synthesizer DN-e1 | | | |
| Lead Synth | | | |
| Jazz Drums | | | |
| Revolta 2 | | | |
| Church Organ | | | |
| Cinematic soundscapes | | | |
| Choir | | | |
| Vita 2 | | | |
Plug-ins
| | | | |
| --- | --- | --- | --- |
| Orange Vocoder ME | | | |
| Vandal Bass & SE guitar amp | | | |
| VST3 interface | | | |
VST3 interface
| | | | |
| --- | --- | --- | --- |
| Tracks | 99 | unlimited | unlimited |
Mastering
| | | | |
| --- | --- | --- | --- |
| Mastering Suite | | | |
| Auto Mastering | | | |